List of products by brand Eleaf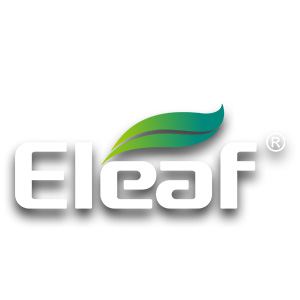 Eleaf Electronics Co., Ltd. was established in 2011, located in Shenzhen city. Eleaf has quickly become one of the best-known vaping brands in the world throughout our continuous efforts and creative spirit. Decent cooperative relationship with our distributors and attentive service to end customers have enabled Eleaf a worldwide famous vaping brand. We also support OEM and ODM applications to meet different distributors' needs. All members in Eleaf factory are endeavoring to provide the worlds' best vaping experience.
Eleaf designed and manufactured iStick series, which have earned great reputations. iStick mini first met the world in the September, 2014 and aroused great waves in the vaping circle. With this momentum, we developed istick 20W, iStick 30W, iStick 50W continually. They all enjoyed great reputation in the world. When newly temperature control element coming into electronic cigarette world, we responded actively and developed iStick TC40W, iStick TC60W, and iStick TC100W in succession. These temperature control e-cigarette devices continue iStick series popularity. They have been our most popular products now.
iStick TC40W adopts technical element of temperature control, which brings out a unique vaping experience without any dry hit by adjusting temperature setting. Despite the small size, it can reach 40W with large 2600mAh power capacity.
iStick TC60W, with elegance and attractive colors, features its changeable magnetic covers for ease of switching your 18650 cell and changing the covers into a different color. Being powerful with 60W maximum output, it is also updated with temperature control technology supporting both Nickel 200 and Titanium coils.
iStick TC100W, powerful and intelligent, not only features its magnetic covers, but also presents you with switchable TC(Ni/Ti/SS/TCR)/VW/Bypass modes. A hidden fire button can protect users from unintentional presses, which gives an additional safety protection. Moreover, if users are unsatisfied with maximum 100W output, it can be upgraded to 120W.
Besides iStick series, we also have iJust series. iJust 2 kit features the 2600mAh large power capacity despite its exquisite appearance and light weight. By adopting dual coil EC head, it makes larger cloud production. Direct output voltage makes it a good choice for a newbie. Larger battery power, higher output voltage.
Extending iJust series, we developed iJust start (plus). In addition to two specifications: 1300mAh for iJust Start and 1600mAh for iJust Start Plus, it also comes with various attractive colors for your options.
In the future, we will persistently pursue innovative design, elegant appearance, higher quality and better service. We hope have a more promising future with the world.