List of products by brand Flavor HIt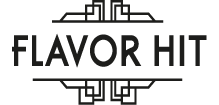 The S.A.S DELFICA chaired by Mr Walter REI, was founded by 3 passionate vape enthusiasts who have been interested in the electronic cigarette market since 2009.
Eager to offer more and more vapers, connoisseurs and demanding new vape experiences, the brand FLAVOR HIT was launched in April 2014, after more than 8 months of research and development.
FLAVOR HIT e-liquids represent the expression of a high quality of French manufacture and a unique vaping experience, especially through our EXCLUSIVE range that offers original flavors and different flavors.
The Made in France label is in the spotlight at DELFICA since all FLAVOR HIT e-liquids are developed, tested and produced in our laboratory and factory located near Strasbourg.
In a market that turns the vape into a tornado, we rely without compromise on Quality, Originality and Pleasure.