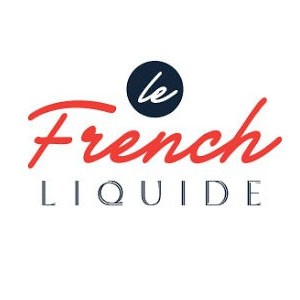 La Petite Chose 50/50 Le French Liquide 50ml 00mg
Product available for orders
French Liquide returns with La Petite Chose. In the same vein as The Thing, this equally gourmet liquid offers an exquisite alternative. A vanilla caramel jam hides a wonderful marriage of grilled hazelnuts and pistachios dipped in freshly brewed coffee. A liquid made to take strength in the early morning
To facilitate filling, the bottle has the new IFillGood stopper.
Important: E-liquid boosted in aromas, sold in bottle of 60 ml.
"The Little Thing" is in line with his big sister. Beneath its gourmet heart made of vanilla caramel jam is a treasure of nuts enhanced with a touch of coffee.
Available in Up to 60 mL format with the new exclusive "IFillGood" stopper made in France to easily complete your bottle thanks to the resealable lid located on the dropper.
Overdose in aroma, add your Nicomax boosters to obtain 3 mg / mL (opt for the 50 mL version) or 6 mg / mL (opt for the 40 mL version)
Base e-liquids:
Plant Propylene Glycol (up to 50%), Vegetable Glycerin (up to 50%), Nicotine USP (depending on the rate selected: 0 mg / ml, 3 mg / ml, 6 mg / ml, 11 mg / ml, 12 mg or ml or 20 mg / ml)
Bottle :
Bottle 40 or 50 mL Net up to 60 mL with tamper evident ring, child safety, composition, best before date, lot number
QRCode:
Thanks to our unique QRCode system in the world, you can know directly online all the information concerning the manufacture of your product
Type of aromas:
food and natural aromas
Type of product :
E-liquid
iFillGood:
Exclusive cap, Made in France. Add your Nicomax boosters simply thanks to the resealable lid located on the dropper
If you want to get a 3.3mg / ml nicotine e-liquid, you will need to mix 1 nicotine booster in your 50ml bottle. For a higher dosage, you will need to mix several nicotine boosters in a larger bottle.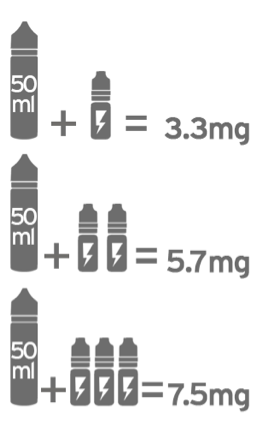 Brand

Le French Liquide

Origin

France

Type of flavour

Creamy

Compositions

Propylene Glycol, Vegetable Glycerin, Flavors

PG / VG rate

50% / 50%

Type of bottle

P.E.T. (Recyclable plastic)

Capacity

50 ml
WHAT RATE OF NICOTINE TO CHOOSE ?
Nicotine favors the "hit". The hit represents the feeling of contraction in your throat as steam passes through each inhaled puff.
Choosing the right amount of nicotine is one of the fundamental parameters for a successful transition to the electronic cigarette. It should not be too strong or too light so that everyone discovers an optimal steam.
Here are the different available nicotine levels and related matches for any new vaper:
18 or 16 mg / ml: for a regular smoker of at least 10 cigarettes a day.
9 or 12 mg / ml: for average smoker up to 10 cigarettes a day and / or if you smoke light.
3 or 6 mg / ml: for a small smoker, for an ultra-light smoker or for a confirmed vaper who has already reduced his nicotine dosage over time.
0 mg / ml: if your nicotine withdrawal is already effective.
PRECAUTIONS OF USE :
Toxic by skin contact (for e-liquids with nicotine). Keep out of reach of children and locked up.
In case of skin contact: Wash with plenty of soap and water.
If swallowed or if you feel unwell, contact a poison control center or doctor and show the label on the e-liquid vial.
Do not use in pregnant or lactating women. Not recommended for people with cardiovascular, epileptic or nicotine sensitive diseases or any of the other ingredients.
Prohibited under 18.
Product intended solely for charging electronic cigarettes.
CONSERVATION :
For optimal efficiency of your e-liquids, store them in a dry place away from light.
Finally the flavor does not change, remember to close your bottle after use.
ENVIRONMENTAL PROTECTION:
Do not let your e-liquid get into streams. Small amounts can be thrown away with household waste.
1 other product in the same category: